About Eating Disorders – General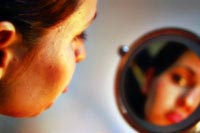 Eating Disorders in adolescents can take several different forms. Among teens, binge-eating is the most common eating disorder, although bulimia and anorexia are also found in this age group. Any type of eating disorder involves connecting food with emotions and may, in some cases, be associated with other mental disorders as well. Eating disorders lead to other health issues, some of which may require hospitalization. Treatment for eating disorders can be complex and should be tailored for the needs of the specific teenager.
Eating disorders may arise from insecurities about weight and appearance, as an unhealthy way of coping with negative emotions, or as an attempt to control one's life by controlling food. Adolescents who are dealing with eating disorders also have higher rates of substance abuse and depressive disorders. In treating the disorder, the triggers and underlying emotional issues must be addressed, in addition to providing nutritional education.
As a parent of an adolescent with an eating disorder, it is important to understand that an eating disorder has no simple fix. Eating disorders may have their roots in biological, sociological, or psychological issues, so simply putting the teen on a diet will not fix the situation. It is important for the parent to support their adolescent in working through these issues and establishing healthy eating patterns. In most cases therapy is necessary to help the teenager develop a healthy relationship with food, adopt a positive body image and heal from the emotional wounds.
We'll help you find a therapeutic boarding school for your child with Eating Disorders
We talk to dozens of parents daily, matching them up with therapeutic boarding schools that can best help their teenager. We visit these schools and we know the people there. And we get regular reports from parents who have placed their teenager there. So we are in a unique position to help you in this important decision. There is NO CHARGE for this service. Just fill in the inquiry form and I'll provide the best possible options for your child.
[HTML1]