About Runaway Teens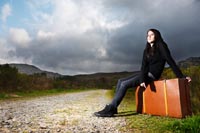 Teens may run away from home for any number of reasons, but most runaways are dealing with another issue such as substance abuse or an emotional struggle. In order to help the struggling teenager most effectively, it is important to understand the teen's thought process as much as possible. A teen may leave home in response to a particularly stressful situation in an attempt to avoid facing the problem. Some teens, especially those who chronically run away, have not learned appropriate problem-solving skills and use running as a method of coping. Teens becoming deeply involved in substance abuse may run away, either to hide their behavior from their parents or to engage in the activity even more.  For some, such as depressed teens, running away may be a cry for help. The teen most often does not realize the consequences of running away or the truth about life beyond the safety of their home.
Teens who run away face new difficulties when they are on the streets. Life on the streets means being hungry and cold, having no consistent place to sleep and being vulnerable to many dangers. Runaway teens who stay away from home will  often, in an attempt to support themselves, resort to behaviors that they would not typically engage in.
There are not always clear signs that the teen is considering running away, although behaviors such as hoarding money or threatening to run should be considered a warning. Maintaining a strong relationship with your teen is the most important thing you can do as a parent. Your teen needs to feel your acceptance and understand that you love him or her, no matter what his or her behavior. Teens need to understand that running away will not make their problems disappear, but that they must still face the issue when they return. By teaching effective problem-solving skills to your teen, especially to a chronic runaway teen, you will not only reduce their risk of running but also provide skills they will need throughout life.
We'll help you find a therapeutic boarding school for your Runaway Teen
We talk to dozens of parents daily, matching them up with therapeutic boarding schools that can best help their teenager. We visit these schools and we know the people there. And we get regular reports from parents who have placed their teenager there. So we are in a unique position to help you in this important decision. There is NO CHARGE for this service. Just fill in the inquiry form and I'll provide the best possible options for your child.
[HTML1]